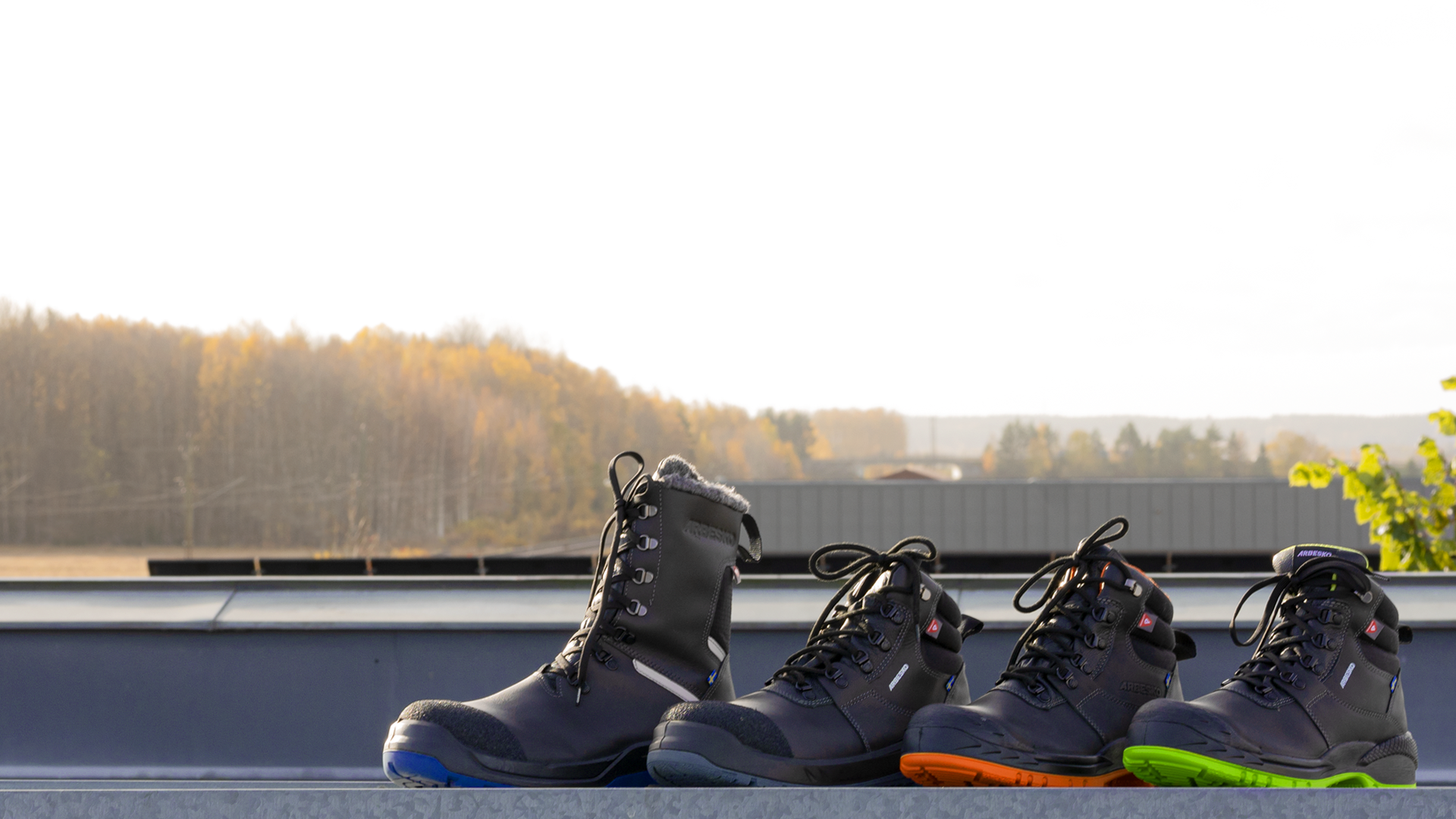 Of course quality lasts longer
The most important thing we can do to reduce our negative impact on the environment is to constantly focus on developing products with the highest possible quality and longest useful life. This is and has always formed the basis of Arbesko's business; quality, safety and function are the most important factors for us.
The longer our safety shoes last, the longer they fulfil their purpose. For us, the most sustainable product is one that does not need to be replaced but can be used for a long time.
But sustainability is about more than our impact on the environment. Our company's vision of "a world where everyone is safe and healthy at work" extends not only to the fact that we deliver safety and quality with our products, it also pervades our entire operation, including factories and subcontractors. It's about what we can do at all levels, big and small. At Arbesko, we want to be responsible and assume environmental and social responsibility throughout our supply chain.
Our business concept and mission
Our business concept includes our ambition to be the market's most sustainable supplier of safety shoes. At the same time, our focus is on developing, manufacturing and selling the best safety shoes in the market from a quality, function and safety perspective. We promise not to compromise on that. Our primary task is to protect hard-working feet.
Arbesko's business concept:
We develop, manufacture, and sell the best safety shoes in the market in terms of quality, function and safety

We aim to be the most sustainable supplier of safety shoes in the market

We are experts and will offer the best customer experience in the market, both digitally and with personal service

Our values
At Arbesko, we work extensively with our values and make sure they are a constant presence in our daily decisions and attitudes.
Accountable
We assume responsibility for each other and our environment by making sustainable choices and being easy to collaborate with.
Engaged
We show engagement to our company, our customers and our colleagues by being creative and solution-oriented.
Customer-centric
We are receptive to our customers' needs and develop our products together with the customer.
Credible
We deliver what we promise and always focus on quality and safety.
Open
We have a welcoming and curious attitude towards people, ideas, technologies, and the world around us, and we always strive to improve.
The Sustainable development goals guide us
Our sustainability strategy aims to support the UN's Sustainable Development Goals. These goals guide us to focus on those areas where we can contribute the most.
A materiality analysis has enabled us to prioritise five goals that are particularly relevant to us – Good health and well-being, Gender equality, Decent work and economic growth, Sustainable consumption and production and Climate action.
OUR FOCUS AREAS

3. A sustainable product portfolio
Innovative products with a long useful life, where the choice of materials and suppliers corresponds with our Values, our Code of Conduct and our Environmental Requirements.

4. Waste and emissions
Minimize waste and emissions, reduce the consumption of raw materials and energy, and recycle and reuse materials.