Sustainability at Arbesko Skofabrik
We believe in a local, sustainable production. This is why, throughout our history, we have chosen to keep much of our production and expertise in Sweden. Today, 90% of the shoes we sell are produced in our own factories. This allows us to influence and take control of large parts of our production chain and make those fine judgements that make a difference.
As part of our sustainability strategy, Arbesko Skofabrik has been certified in quality and environmental management (ISO 9001 and ISO 14001) since the 90s. And since autumn 2021, occupational health and safety (ISO 45001) and all office operations have also been included.
Energy consumption
All electricity purchased for our production facility in Kumla comes from hydro power, a renewable source. In 2020, several measures were also taken to reduce total energy consumption in the factory.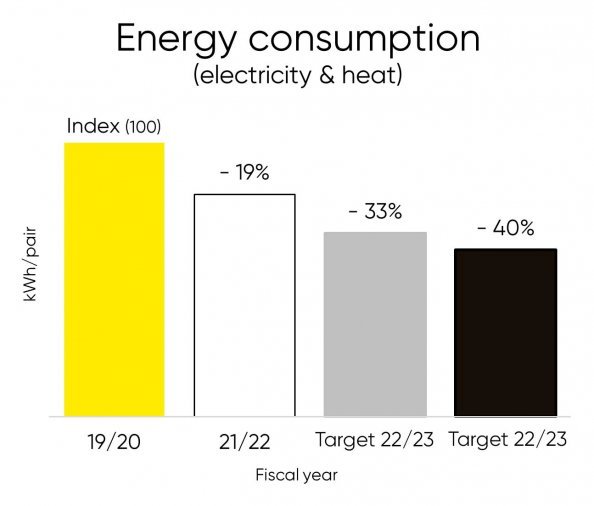 Examples of energy-saving measures implemented in production during 2020:
Ventilation was reviewed, including timer control.
All machines, compressors and lighting were fitted with a timer function.
The lighting in our office premises was fitted with an automatic switch-off function.
Changing the design of the sole in several of our shoe models reduced the number of tool changes, which in turn contributed to a 33% reduction in the use of our heating ovens.
Examples of planned measures:
More efficient ventilation in 2022

By making our ventilation more efficient, we will be able to further reduce our total energy consumption. Based on an analysis performed by the supplier, this could involve a reduction of approximately 6%.


Solar panels on roof in 2022

By installing photovoltaic cells on the roofs, we want to contribute to the production and supply of clean energy. We expect to be able to produce the equivalent of 11-12% of our annual electricity consumption from solar energy.


Review of lighting

During the year, there are also plans to further review our lighting in production.



Waste and emissions

As part of our goal to minimise waste from our operations, a partnership was initiated with the recycling company Ragn-Sells in 2021. This partnership resulted in us being certified in accordance with ReThink™. A ReThink™ certification means that Ragn-Sells assigns a rating to describe how well you are performing in this area, and suggests measures to improve even more.
Ragn-Sells is helping to map our waste management process, with the aim of making us as resource-efficient as possible. They help to identify measures to minimise waste and ensure that the best recycling solutions are used.
We have seen a major impact since this work was initiated, and we are very proud that our efforts have resulted in a 17% reduction in waste per pair of shoes produced.
Produksjon i Brasil
The uppers of our shoes are manufactured in Brazil by our subsidiary Oksebra do Brasil, which we have owned since 1995. This is our biggest subcontractor, and we consider it a major asset that we own this part of the supply chain. It enables us to set high standards and take control of environmental and sustainability issues.